For schools, corporations, training organizations and individual "mediapreneurs," alike, choosing a learning management system or LMS is the key to success. It's not unusual for it to take months of experimentation to find just the right fit.
From feature sets to pricing, ecommerce and beyond, there's a lot to keep in mind. In an effort to help you cut through the noise and develop a strategy for finding the right LMS for you and/or your organization, we've created a 5-point checklist to help you focus your attention on some of the most important differentiators in the space.
1. Determine Your Use Case
First and foremost, understanding exactly who you are and what your unique use case is, will be a foundational piece of choosing the right LMS. What I mean by use case is, how you intend to use the available technology.
Understanding who you are in the greater eco-system of individuals and organizations that utilize LMS' will help you immediately recognize when a particular LMS does not cater to you and your unique use case. Thus, helping you weed out unlikely solutions.
Most LMS users fall into one of the following persona buckets:
K-12 educators looking to flip a few lessons and take a crack at blended learning
Mediapreneurs with a large following looking to broaden their market by selling online courses
College professors or instructional technologists
Training managers, instructional designers or training organizations
Large enterprises looking to broaden their market and increase revenue
Independent educators interested in teaching online, who have neither content nor a following of any kind
Homeschooling parents or groups
Non profit organizations interested in training and or additional revenue streams
Based on the few use cases listed above, there are definitely some platforms that cater to one or two of these personas better than anyone else. Your specific needs are important and not all solutions will provide you with what you need.
Knowing who you are and what your use case is will help you in points 2 through 5.
2. Conduct a Feature Assessment
Now that you've determined your unique use case, you should have a pretty good sense of some of the features you'll need to be successful. The feature set of any LMS boils down to just a few larger tool umbrellas including:
Syllabus & course building - Something you should definitely be looking at is how substantive a platform's syllabus and course-building tools are. Ask yourself if you're able to effectively deliver the preferred learning experience within the provided toolset.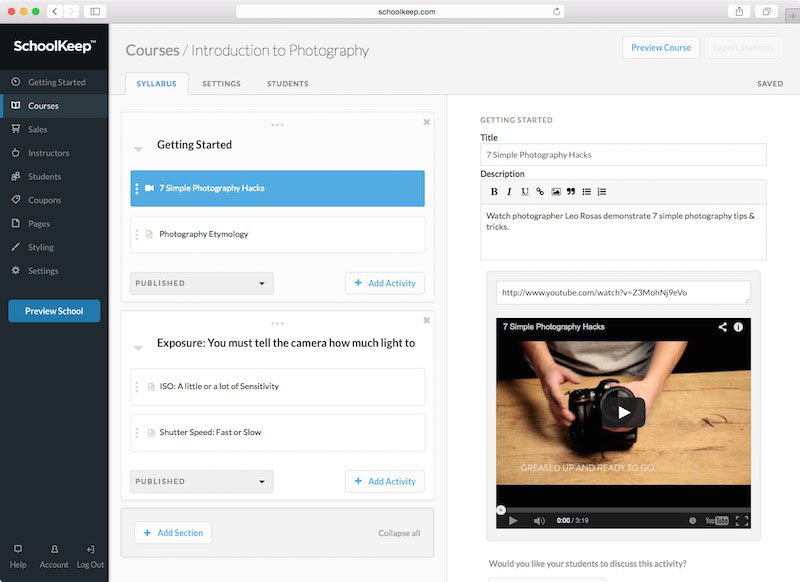 Generally speaking, I would suggest signing up for a trial account to experiment with an LMS' course building tools before making any purchasing decisions. Here's what you should look out for:
Options to embed audio, video, assessments, assignments, PDFs and presentation activities
Native video hosting (so you don't have to pay to privately host elsewhere)
Synchronous and asynchronous courses
Discussion capabilities
The LMS' openness to building new features in the future
Features are important. Don't settle for an LMS that doesn't provide you with the necessary toolset.
Ecommerce - Does the LMS provide you with ecommerce capabilities? Are you able to sell your courses and collect payments directly using a secure credit card processor like Stripe or PayPal? What is the checkout process like for students?
Site building – Do you need your own branded website where your courses can live? Perhaps complete with an intuitive and easy-to-navigate course catalog? Do you want the ability to add additional pages to your site?
LMS site building tools will be similar to those available within larger, open source content management systems. Usually you'll be able to choose from a templated design or theme, making creating a beautiful site easy for non-developers.
For a K-12 educator looking to just flip a lesson or two, site building may not be a top priority but for a mediapreneur or independent educator interested in building a business around selling online courses, the branded site building feature will be necessary.
Learner experience – This one is important. What is the learner experience like with the LMS? Is it interactive? Does learning take place in the cloud? Is the learning experience responsive? Will your courses be built with responsive design so they're accessible from a mobile device or tablet?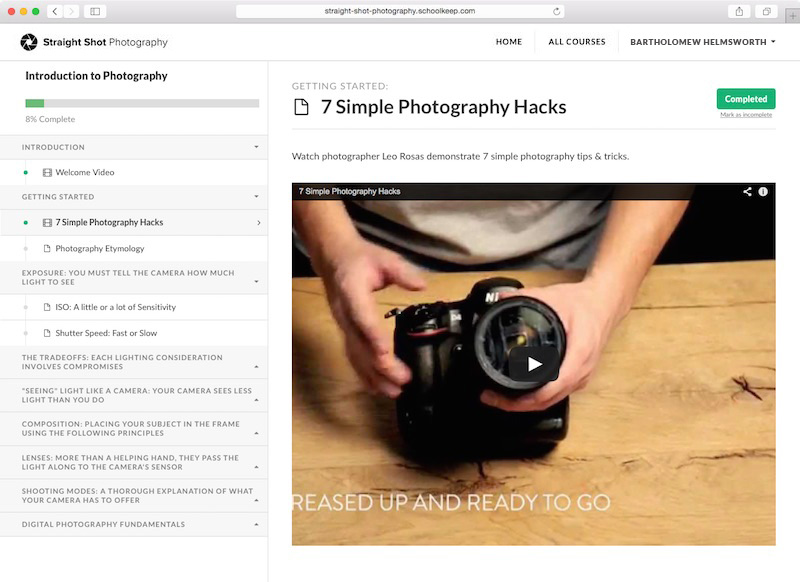 Distribution and marketing - Particularly important for the entrepreneurial or business-minded educators, distribution and marketing tools and support should also be assessed before making any purchasing decisions.
Things to look for:
Coupon creator
The option to be listed on 1 or more online course directories
Social media integration and sharing
Email marketing functionality
Search engine optimization
Landing pages
Data and analytics – Does the LMS in question give you real-time visibility into important course and school-wide metrics? Are you able to keep track of course sales and enrollments? What about mapping learner progress or measuring your sites traffic to see how visitors are engaging with your school?
Another thing you should keep an eye out for is who owns your student data. Does your LMS own that information or do you?
3. Pay Attention to UX Design
One of the biggest complaints we hear from folks searching for the right LMS is that many of the traditional options are clunky and not very intuitive to use.
Make sure when you're testing the products that you get a sense of how you feel as a user of the product itself. Is it a seamless process? Do you feel inspired by the minimalistic design? Is there a simple, straightforward and logical flow?
Most importantly, does that user flow translate to the learner's experience too?
4. Review Pricing Thoughtfully
Does the LMS offer flexible pricing packages or just a single model? Is there a "pay-as-you-grow" option or will it cost your organization a large chunk of money up front? What about a free trial?
Be sure to get a solid understanding of the pricing options available and their accompanying feature sets.
5. Understand the Level of Provided Support
Creating online courses is a challenge for even the most talented instructional designers among us, let alone for subject matter experts just getting into the field of online education. When choosing an LMS, make sure you're looking at companies and organizations that make your success their #1 priority.
There are several different ways LMS' can support their customers but it's best to find a brand that's supportive in every conceivable way. Here's are some things to consider:
Does the LMS maintain a highly educational blog and knowledge base intended to teach users how to use their products?
Does the LMS provide in-app chat support for when users get tripped up or confused?
Does the LMS provide opportunities to discuss problems, concerns or ideas via phone calls with real people?
Does the LMS source and then utilize your product feedback?
Is the LMS reachable via an active and supportive social media presence?
There you have it: The 5 Point Checklist for Choosing the Right LMS. I hope this post has helped you narrow your focus and begin paying attention to what really matters in this world of rapidly changing technology.
{{cta|https://www.schoolkeep.com/lms-request-for-proposal-template|https://uberflip.cdntwrk.com/files/aHViPTYzNjYzJmNtZD1pdGVtZWRpdG9yaW1hZ2UmZmlsZW5hbWU9aXRlbWVkaXRvcmltYWdlXzU4NWFhZjlhNGM2OWUucG5nJnZlcnNpb249MDAwMCZzaWc9NzkyZjYzY2Q2NTZjZDlkMTczNDY0NzEzM2U2MTQxMTE%253D}}