Last week, the SchoolKeep team spent three days in Las Vegas attending DevLearn, the all-things-eLearning conference. We were joined by an impressive array of training and eLearning professionals from around the globe – even Neil DeGrasse Tyson made an appearance!
Our team attended a total of 24 sessions with the goal of soaking up as much of the conference as possible. Here we've summed up seven major themes that we observed throughout the conference. Enjoy!
1. Data collection, analytics and user testing will drive the eLearning development process
Using an Agile/Iterative approach to eLearning development
SchoolKeep Product Lead Julie Gill put it nicely:
"With agile, you're trying to find the problems as soon as possible so you have ample time to fix and improve. You could get 6 months deep in a project without getting any user feedback and end up with something that doesn't work at all."
Thinking like UX designers
Julie pointed out that in one of her sessions, the presenter asked the room how many of the participants had physically observed their students going through training materials.
"Only a few hands went up," she said. "I couldn't believe it."
If educators want to improve eLearning courses and remain relevant among learners, it would be in their best interest to start user-testing their programs before launch.
Things to consider:
Is there enough white space on the page?
Are buttons in the most logical places? What color are they?
Are students asked to click too often?
Are your questions confusing?
These are all things you may never learn without doing some rigorous user testing.
2. Social learning will keep gaining traction
While the social learning sessions on the schedule were packed, they didn't offer too many examples of how educators are actually going above and beyond with social learning.
Case in point: At #GuildChat on 11/3, a user mentioned, "Too much time defining a problem we already know about, not enough time discussing solutions."
When asked what folks are looking for in a social learning session, the same user mentioned, "What tools do you use? How did you overcome inertia? What major hurdles have you faced and how did you clear them?"
As a community, we're hungry for examples of how others are pushing the limits with social learning but none of us are taking the plunge ourselves. However, if we keep asking the right questions, folks will be inspired to tackle them. Thus, I suspect next year's social learning sessions will be more robust.
3. Instructional designers will start thinking like digital marketers
This trend came up repeatedly throughout the conference. Instructional designers and marketers face similar problems, including:
Where do my learners/customers hang out?
How do I reach them?
How do I make sure they retain learning/remember what I sell?
How do I make my content available to them? What format?
How do I make it actionable?
The main obstacle is that while industry resources and education in digital marketing are plentiful and easy to find online, online learning influencers haven't yet done much to compile their expertise.
By studying the marketer's playbook, instructional designers will find themselves applying marketing best practices to make their courses more actionable and memorable to students.
Related post: What Online Educators Need to Know About Social Media Marketing
4. Memory will matter as instructional designers refer to neuroscience throughout the course development process
"The 2nd edition of Adobe Captivate will not solve your eLearning problem" - Dr. Art Kohn
Dr. Art Kohn's session, "Building Online Training to Promote Learning Transfer and Behavior Change," was the highlight of the conference for me. Kohn does a masterful job highlighting the forgetting curve and how we can interrupt forgetting with well-timed "learning boosts."
Dr. Kohn describes these learning boosts as small nudges that encourage effortful retrieval of previously learned material. In fact, I just received my first learning boost from Kohn's session a minute ago via a simple multiple-choice quiz Kohn sent attendees:
"According to my lecture, what percentage of learning is lost in the first hour after training?"
Correct Answer: C
Feedback: Yes. The forgetting curve shows that people lose 50% of all learning within the first hour after training, and up to 80% within a few days.
If you missed his talk, check out Kohn's slides here.
Related post: The Neuroscience of Storytelling Will Make You Rethink the Way You Create Online Courses
5. MOOCs will continue to be a hot topic of discussion and debate
The popular consensus on MOOCs is that they aren't going anywhere for now. Most of the folks I met at DevLearn agree that MOOCs can transform the way we educate giant lecture halls of Accounting 101 students.
Despite the buzz and early success surrounding MOOCs, critics still complain of low completion rates and the fear of leaving professors without work. But what if their time could be better spent working more closely with students to hone their skills, answer their questions, and create a more engaging in-class experience?
It's all about efficiency and improving the learning experience. How will MOOCs factor into this line of thought? Time will tell.
6. Instructional designers will spend more time building and learning from their networks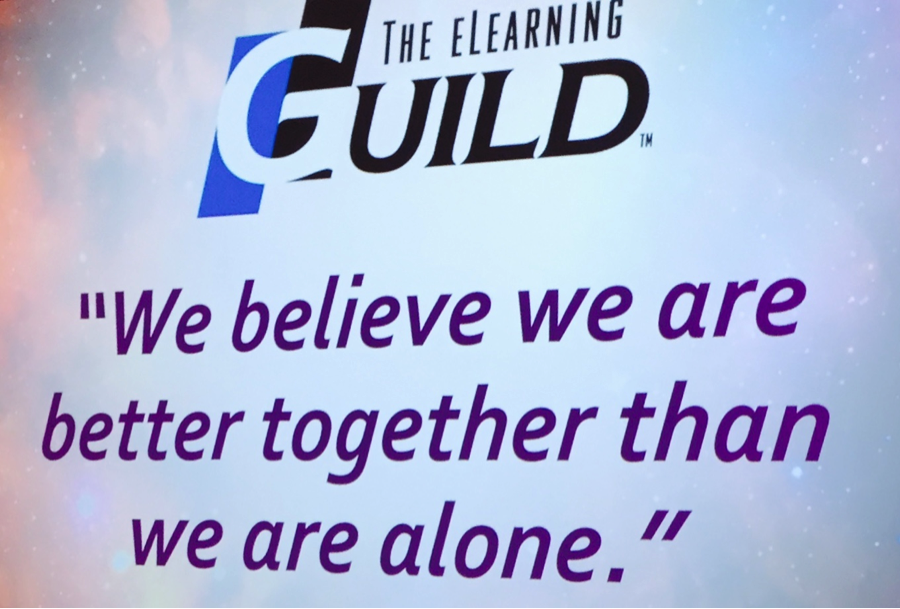 A slide from David Kelly's opening remarks. Follow David on Twitter @LnDDave
Based on my observations at DevLearn, many instructional designers feel disconnected from others doing the same work. At the end of every session, hands would fly up with questions like, "Am I doing this wrong?" or "I'm not the only one, am I?"
It's no surprise, then, that Personal Learning Networks (PLNs) are becoming increasingly valuable to instructional designers. The eLearning Guild does a great job of connecting folks and providing opportunities for community, collaboration and continuing professional development.
Still, keeping one's PLN engaged is easier said than done. What can we do to extend the reach and popularity of #GuildChat and how can we provide more opportunities for meaningful collaboration outside of educational conferences? How do we keep the spirit of DevLearn alive throughout the year?
7. Educators will keep trying to create interactive learning experiences that scale up
I left this one for last, seeing as this theme resonates the most in my daily work at SchoolKeep. We're not just trying to find ways to create engaging and interactive learning experiences - we're building a solution that allows any educator to do the same.
What were the major themes you observed at DevLearn? Leave them in the comments.
{{cta|https://resources.schoolkeep.com/training-framework|https://uberflip.cdntwrk.com/files/aHViPTYzNjYzJmNtZD1pdGVtZWRpdG9yaW1hZ2UmZmlsZW5hbWU9aXRlbWVkaXRvcmltYWdlXzU4NjQxNDUwZjI5NmMucG5nJnZlcnNpb249MDAwMCZzaWc9M2FhY2QxNzllZTY3MDZlMmI0ZTZhZmZkNWE5NGE5ZjA%253D}}