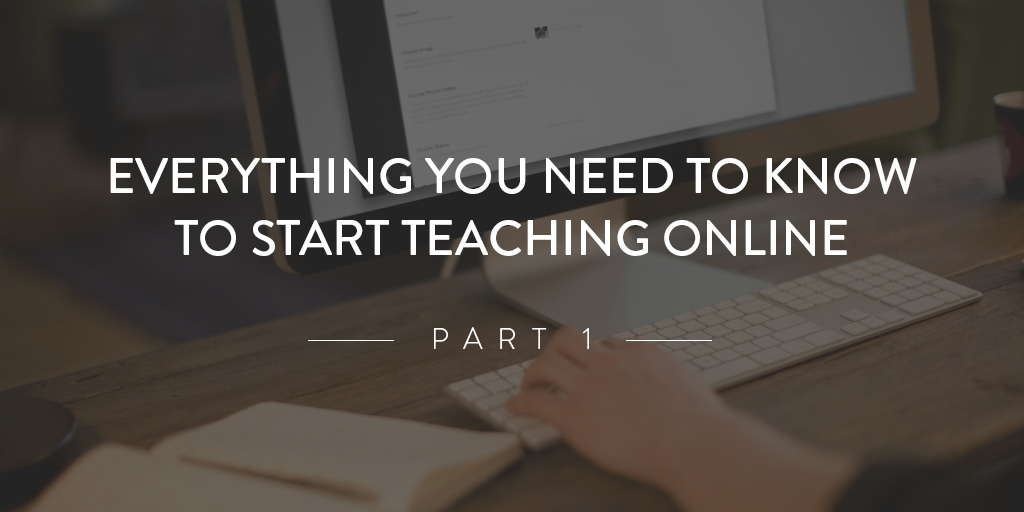 This post is the first in a 3 part series dedicated to helping educators get started with teaching online.
Whether you're a traditional classroom teacher, subject matter expert, author, independent educator or somewhere in between, there are some preliminary steps you should take before getting your hands dirty with course content.
Research
Laying a solid foundation and doing the proper research should not be overlooked, as both are directly connected to your future success teaching online. We've outlined 3 key areas for you to explore before you even commit to a course title or accompanying learning objectives.
1. Take an Online Course or Two
If you haven't taken an online course, now would be the time to do so. Not only will you get a feel for what your students will experience in an online learning environment, you won't be able to stop the flurry of ideas for your own school!
Since you may find yourself engaged at certain points in the course and possibly less engaged during others, the experience will help you form your own ideas about what will best engage your student base.
Remember that online learning is still relatively new. You may have some unrealized tricks up your sleeve that could lead to industry-wide best practices. You probably won't realize those tricks until you've experienced the techniques of other educators. Learn from others – it's the best way.
Through the process of being a student, you'll become quite analytical about your user experience and what you might want to emulate in your own course. Try not to skip this step and never stop taking courses online!
2. Learn from Other Educators
One of the best ways for online educators to gain some qualitative insight about the process of building and managing an online course is by spending some time around folks who have already taken the leap.
In many cases, there's no stronger form of learning than through that of collaboration. Utilize discussion boards, forums and social networking groups to uncover the insights you're after.
Some questions you're likely to encounter include:
Hi, Newbie here. I'm recording a tutorial on Adobe Fireworks using Camtasia Studio. Would you guys please give me some suggestions?" – Private Facebook group
For those of you who have created an online class, what is your favorite platform? – Public Quora thread
What tools and software do you use for storyboarding? – Private Linkedin group
With a limited snapshot of just 3 questions posted across different platforms, it's pretty clear there's much to learn from the questions and answers of folks at all stages of the course building process. Ignore this step and you'll be shunning the kind of insights that will help you build better courses from the get-go, eliminating painful revisions and do-overs in the future.
If you're just getting started with social media groups, you'll definitely want to check out our guide: Social Media Success Guide for Online Educators.
3. Supply and Demand
I don't want to bore you with economics here, but I'd be doing you a disservice if I failed to mention supply and demand in this first post. This is a particularly important subject if you're planning to sell your online courses (and why wouldn't you?)
Very quickly, demand refers to how much of a product or service is desired by buyers and supply refers to how much the market can offer. Thus, the price of your course will be a result of supply and demand.
Learn what others are charging and paying for the type of course you're looking to build. The price of your course will probably change at some point – it's essential to tweak it regularly.
Many educators haven't the first idea about how much they should charge for their course or whether or not people will actually purchase it. My suggestion to educators in regards to these questions is to take a good look at the market and determine where the gaps are. Solving market gaps will give you a competitive edge and allow you to charge more for what you provide.
Helping people navigate and learn the latest technology is always a winner in online education, but you should check sites like Udemy and Youtube to see how much of that education is already available and for at what cost.
For those of you who have already built some online courses, did I miss any planning and research stage steps? Leave them in the comments!
Stay tuned for post #2 of the series where we dig into the meat and potatoes of building an online course.
{{cta|https://resources.schoolkeep.com/training-framework|https://uberflip.cdntwrk.com/files/aHViPTYzNjYzJmNtZD1pdGVtZWRpdG9yaW1hZ2UmZmlsZW5hbWU9aXRlbWVkaXRvcmltYWdlXzU4NjQxNDUwZjI5NmMucG5nJnZlcnNpb249MDAwMCZzaWc9M2FhY2QxNzllZTY3MDZlMmI0ZTZhZmZkNWE5NGE5ZjA%253D}}