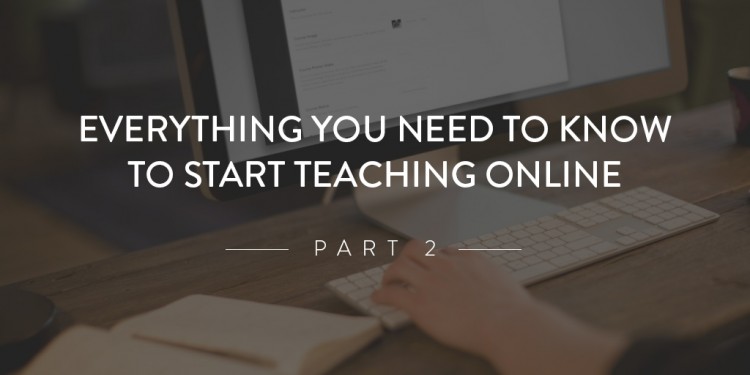 This post is the second of a 3 part series dedicated to helping educators get started with teaching online. If you missed part 1, you can view it and a plethora of other related posts by subscribing to the blog.
In the first post of the series, we focused primarily on the research phase of your online teaching endeavor. Now that you're ready to get your hands dirty with course creation, we'll be exploring a tried and true method to help you prepare your content for online delivery.
This method assumes you have already chosen a topic and have at least some content, be it written or video.
Start With Positioning
Positioning begins with answering the questions of:
What will you teach?
Why will you teach it?
Answering these questions will help you position and sell your course when it's finished, as well as keep you on track throughout the creation phase.
Learning Objectives
If you're able to answer the questions of what you will teach and why, the next step is to outline learning objectives. Learning objectives refer to what students will specifically be able to do as a result of taking your course.
Your potential students must understand exactly what you're teaching as well as why they need to learn it. Make sure you've done the appropriate research to determine whether or not your topic warrants creating a course.
Tip: Test your idea for a course by throwing a few short tutorial videos onto YouTube or creating a series of blog posts.
Mapping Your Course
Now that you've positioned your course it's time to think about how to structure and deliver your content and expertise. If you're using SchoolKeep, the course builder is where most of this work will be done.
Review your existing content to pinpoint the absolute, most valuable ideas and lessons within your chosen topic. Get rid of anything that doesn't directly support your previously outlined learning objectives.
From there you'll be able to create the different sections of your course. Course sections should be broad enough to offer at least a few different activities in each, while knocking out at least 1 of your learning objectives.
Choose Activity Types
Once you've established your course sections, you must decide how many and what types activities you'll include as part of each section. Do you want to have students watch a video? Listen to an industry podcast? Complete an assignment? All of the above?
Take this opportunity to be both ambitious and creative. Once you have your course sections and activities mapped, you're not so far from the finish line. In fact, the more difficult steps are now behind you, so congrats!
Activity Execution
Great job getting to this point! The true test of whether you're serious about teaching online will be the test of execution. Will you complete the activities you've planned in the course-mapping phase? I hope so! You've come so far already.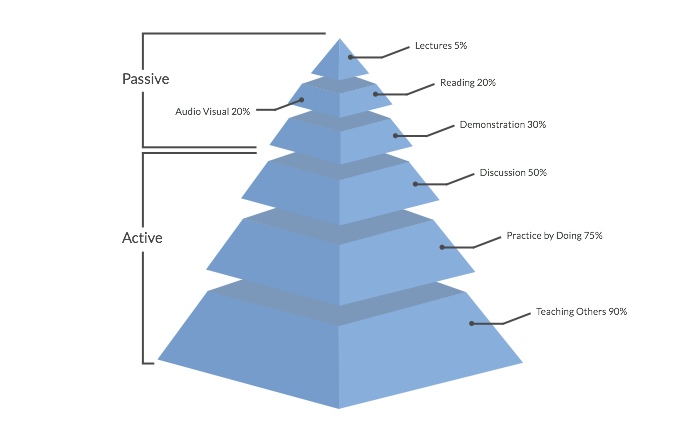 As you focus on your activity types, consider American educationalist, Edgar Dale's 'Cone of Experience.' The percentages refer to the amount of information we retain while engaging in passive v. active learning.
Things to keep in mind as you execute on your activity ideas:
Active learning > Passive learning (check out this recent post on the SK blog by James Tweed on Active v. Passive Learning).
Switch up the different types of activities to satisfy your learners' multiple senses.
Provide opportunities for self-directed learning whenever possible (hint: encourage students to explore and share in the responsibility of educating themselves).
Build in purposeful repetition of complex ideas throughout the course. Repetition helps us learn.
Don't get so caught up being a perfectionist that you delay in execution. Just do it! You can tweak your content later but you'll never succeed teaching online if you don't start.
What do you think? Do you have suggestions for activity execution?
Leave them in the comments and stay tuned for Part 3 of the series where we'll discuss an easy to follow method for creating a pedagogically sound curriculum, collaboration techniques and tips for keeping students motivated!
{{cta|https://resources.schoolkeep.com/training-framework|https://uberflip.cdntwrk.com/files/aHViPTYzNjYzJmNtZD1pdGVtZWRpdG9yaW1hZ2UmZmlsZW5hbWU9aXRlbWVkaXRvcmltYWdlXzU4NjQxNDUwZjI5NmMucG5nJnZlcnNpb249MDAwMCZzaWc9M2FhY2QxNzllZTY3MDZlMmI0ZTZhZmZkNWE5NGE5ZjA%253D}}