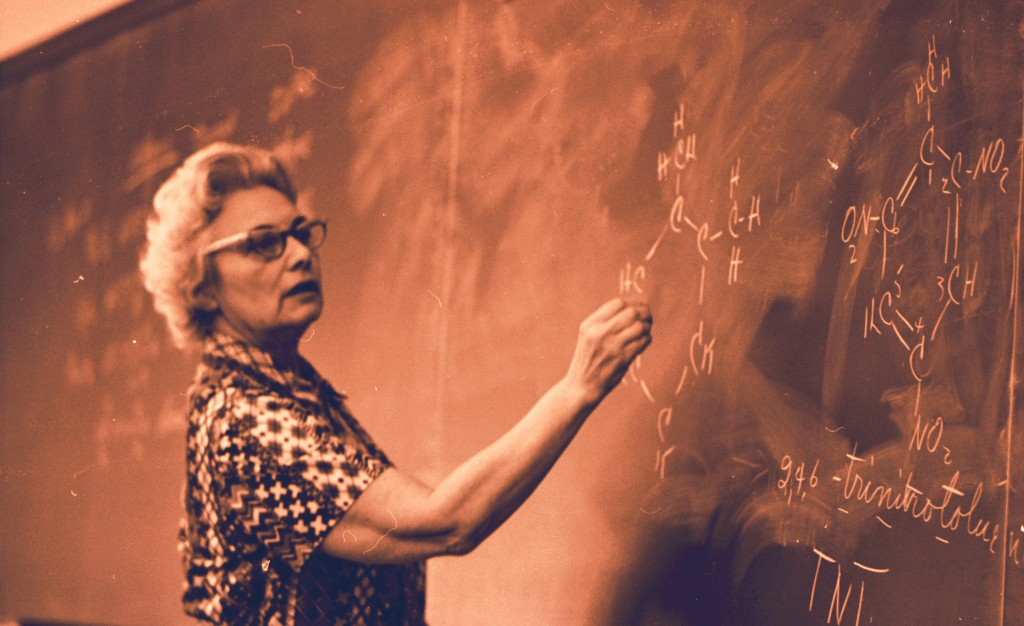 The Next Web recently published an article titled, Online Teaching's the New Blogging: How to Turn your Followers into Course Buyers. The post sparked several conversations here at SchoolKeep and inspired me to create an online course based almost entirely off of my previously written blog content. Most of that content was created to educate readers to begin with, so moving it into an online course setting makes perfect sense for me — and perhaps for you as well.
This post is the first in a three-part series dedicated to showing bloggers and online educators an easy, step-by-step process to convert blog content into an online course. I'll share my process with you to help you get started on your first course right away!
Seven Rules for Converting Blog Content to Online Courses
In Leading the Learning Revolution, author Jeff Cobb dedicates a chapter to his seven rules to teach and facilitate by.
Position it
Prune it
Chunk it
Stimulate multiple senses
Remember to Repeat to Remember
Make it active
Share the responsibility
I kept these in mind while I was creating my course, and I found them to be so useful that I'm using them to guide this series. In this post, I'll dive into the first 3 and discuss how they can help convert your existing blog content into revenue-generating online courses.
Positioning
Positioning refers to what you will teach and why. It's important for you to convey exactly why it is your audience needs to know what you're teaching.
In my case, I'm often writing to an audience of educators who wish they knew more about how to use social media for professional development, student engagement or marketing activities. Back in March, I published a post on Linkedin titled Twitter for Beginners in Education that received over 25,000 views, 240 likes and 40+ comments in less than 48 hours.
The success of that post reflects my target audience's appetite for this type of content and education, which is why I decided to name my online course Twitter for Beginners in Education. I also leaned heavily on another one of my posts, titled 7 Tools Driving Social Media Success for Online Educators, in the making of my course.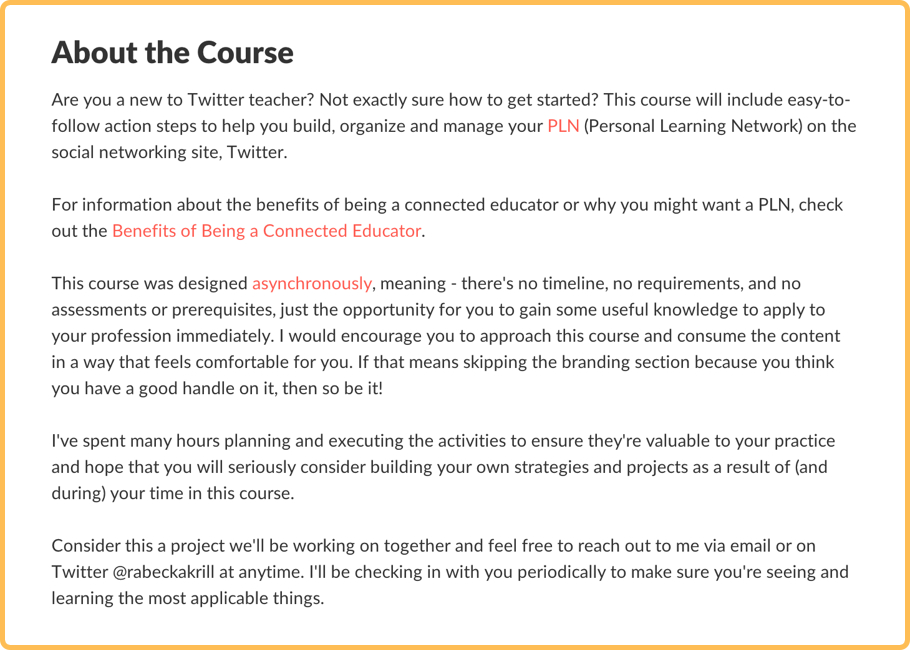 Tip: Before investing both time and money into the development of course activities, test an idea with a series of blog posts.
When you're ready to start, knowing your audience's needs will help you articulate learning objectives, so students know what's in it for them. After checking out my blog post one more time (for comparison), I came up with the following learning objectives: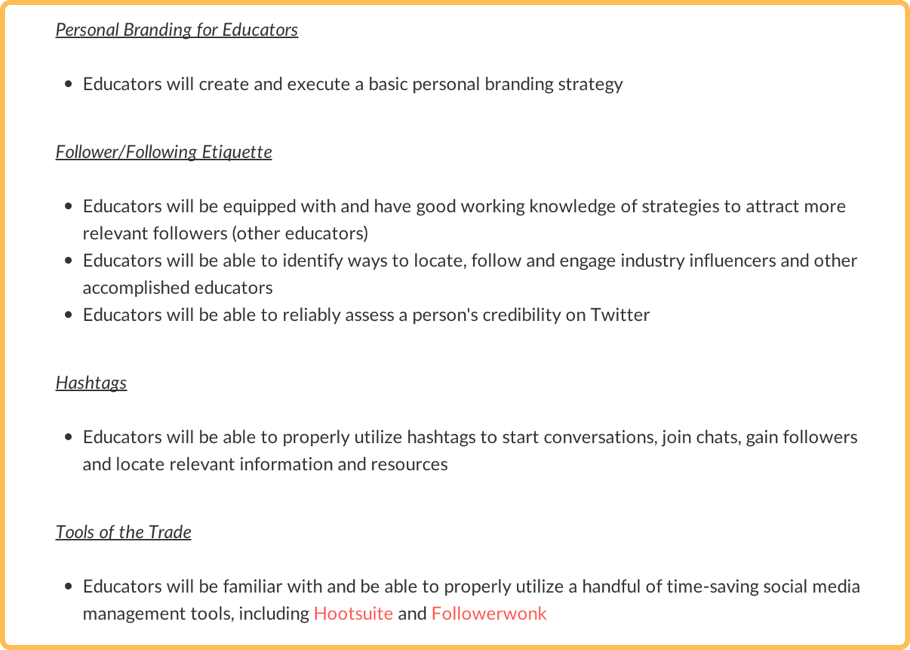 Pruning
Now more than ever, readers and online students alike are bombarded with constant distractions. It will be important to take any dense content and break it down into smaller, digestible bits of information. That's where pruning comes in.
The idea here is that you want to make it as easy as possible for your students to consume the most relevant content and not get distracted in the process. To do this, create labeled course sections, use shorter paragraphs and embrace bulleted lists!
I wouldn't be surprised if you experienced bloggers already have perfectly pruned content, especially if you're accustomed to writing listicles and how-to style blog posts. Take a look at how I very easily turned my learning objectives into course sections below: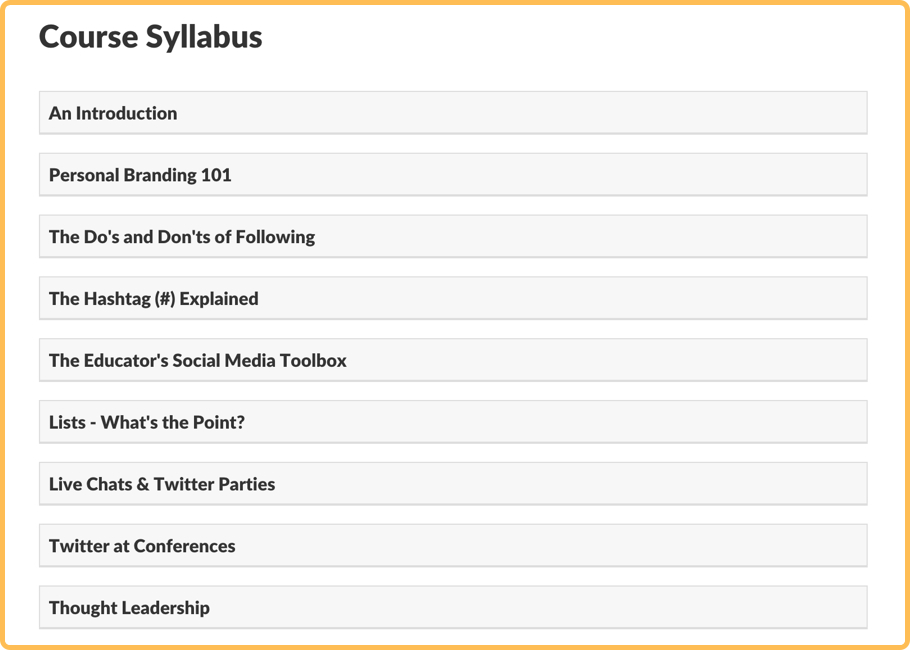 Chunking
As you move into the chunking stage, you want to consider the different ways you'll deliver your content within the course sections. If you're using a platform like SchoolKeep, this could mean anything from a Slideshare embed to a SoundCloud audio file, video file or just plain text.
Wherever possible, try to allow students to forge their own path through your course. Too much content can be overkill, especially since we know students are more engaged when they're solving problems or taking part in project-based learning, not just receiving information passively.
Something Jeff Cobb discusses in Leading the Learning Revolution is that adult students have about 12 minutes of dedicated focus in them for any 1 topic before their mind begins to wander. In other words, make sure you're not spending too much time on any one topic or particular delivery method.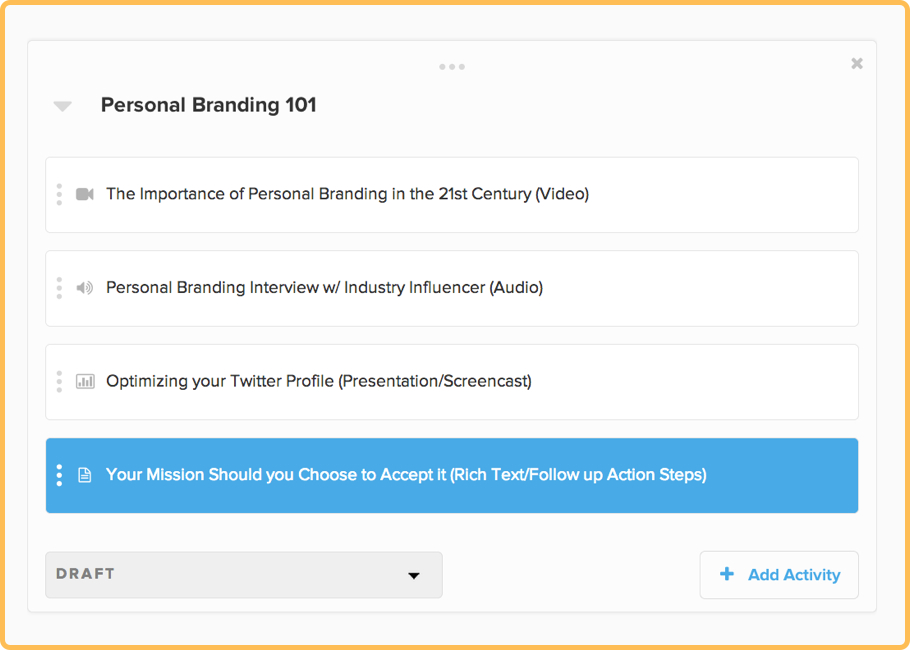 If you can get through positioning, pruning and chunking, then you're well on your way to landing that first course sale! Keep at it and don't be afraid to reach out to me personally @RabeckaKrill if you need assistance. Stay tuned for posts 2 and 3 of this series, where I'll dive into:
Stimulating multiple senses
Remembering to Repeat to Remember
Making it active and
Sharing the responsibility
Thanks again to Jeff Cobb for his 7 rules to teach or facilitate by and don't forget to check out Leading the Learning Revolution for more great tips!
{{cta|https://resources.schoolkeep.com/training-framework|https://uberflip.cdntwrk.com/files/aHViPTYzNjYzJmNtZD1pdGVtZWRpdG9yaW1hZ2UmZmlsZW5hbWU9aXRlbWVkaXRvcmltYWdlXzU4NjQxNDUwZjI5NmMucG5nJnZlcnNpb249MDAwMCZzaWc9M2FhY2QxNzllZTY3MDZlMmI0ZTZhZmZkNWE5NGE5ZjA%253D}}