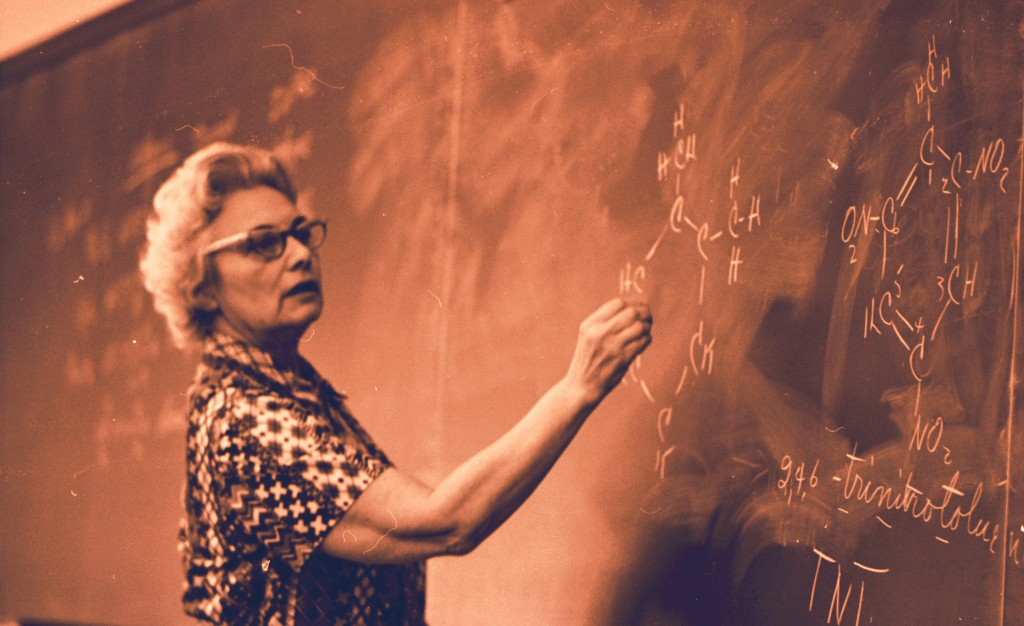 This post is the second in a 3 part series dedicated to showing bloggers and online educators an easy, step-by-step process for converting blog content into an online course. I'll share my process with you so you can get started on your first course right away!
In the first post of the series, we outlined Jeff Cobb's 7 rules to teach and facilitate by, and honed in on the first 3 rules – positioning, pruning and chunking. In this post, we'll tackle rules #4 and #5.
To refresh your memory, here are Cobb's 7 rules:
Position it
Prune it
Chunk it
Stimulate multiple senses
Remember to Repeat to Remember
Make it active
Share the responsibility
Stimulating Multiple Senses
At this point in your blog-to-course conversion process, you should have a pretty thorough outline mapped, and you're probably ready to decide how you'll format the lessons and activities in your course.
As you'll see in the screenshot below, I've decided to offer 4 lessons in the Personal Branding unit. The formats of each activity are shown in the red circles running down the left hand side of the SchoolKeep syllabus builder.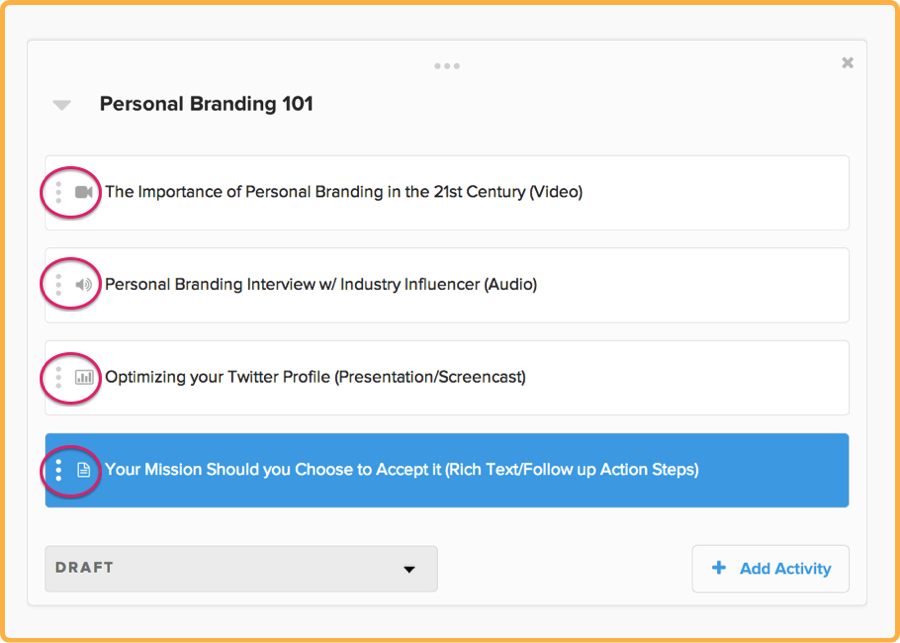 Given the nature of Cobb's fourth rule, I chose to create a diverse set of lesson formats within the branding unit to keep my students engaged. As you can see, I'm converting my blog content to video, audio and Slideshare form. I'm even working on a rich-text assignment. In addition, I plan to offer supporting content assets, like PDF's, cheat-sheets, whitepapers and checklists to support the entire branding section.
When you take this step for yourself, be sure your multimedia choices are relevant to the content and style of delivery. Not just any stock photo will do in a Slideshare presentation about branding, for instance. A slide including some of the world's most popular logos probably makes more sense. Each image should be thoughtfully chosen to support the important points in your lesson.
Remember to Repeat to Remember
Repetition can be uninspiring. So how do we, as online instructors, incorporate repeat exposure to concepts while also being respectful of our students' time?
Here's a tip: learn from others who are already nailing it. I went through the inbound training certificate program with HubSpot a few months ago and was blown away by their ability to instill this idea of repeating to remember.
To do so, HubSpot created "The Inbound Methodology," where they start each of their 30+ live/recorded classes and webinars by referring back to the visual representation of this methodology. Thanks to the constant exposure and daily application of their methodology in my own work, I don't even need to see the graphic in order to sketch it out or explain it to someone else.
As a rule of thumb, it's always a good idea to introduce new concepts next to previously acquired knowledge. This gives students the opportunity to apply new information to previously learned concepts. Do your best to include meaningful opportunities for practice and repetition while also helping students understand why certain concepts are worth repeating.
For more on stimulating multiple senses and remembering to repeat to remember, check out Leading the Learning Revolution, where you can dive head first into Jeff Cobb's 7 rules to teach and facilitate by.
Stay tuned for the 3rd and final installment of the How I Converted My Blog Post Into an Online Course series. After adopting Cobb's final 2 rules, I'll unveil my completed course section and accompanying activities!
{{cta|https://resources.schoolkeep.com/training-framework|https://uberflip.cdntwrk.com/files/aHViPTYzNjYzJmNtZD1pdGVtZWRpdG9yaW1hZ2UmZmlsZW5hbWU9aXRlbWVkaXRvcmltYWdlXzU4NjQxNDUwZjI5NmMucG5nJnZlcnNpb249MDAwMCZzaWc9M2FhY2QxNzllZTY3MDZlMmI0ZTZhZmZkNWE5NGE5ZjA%253D}}