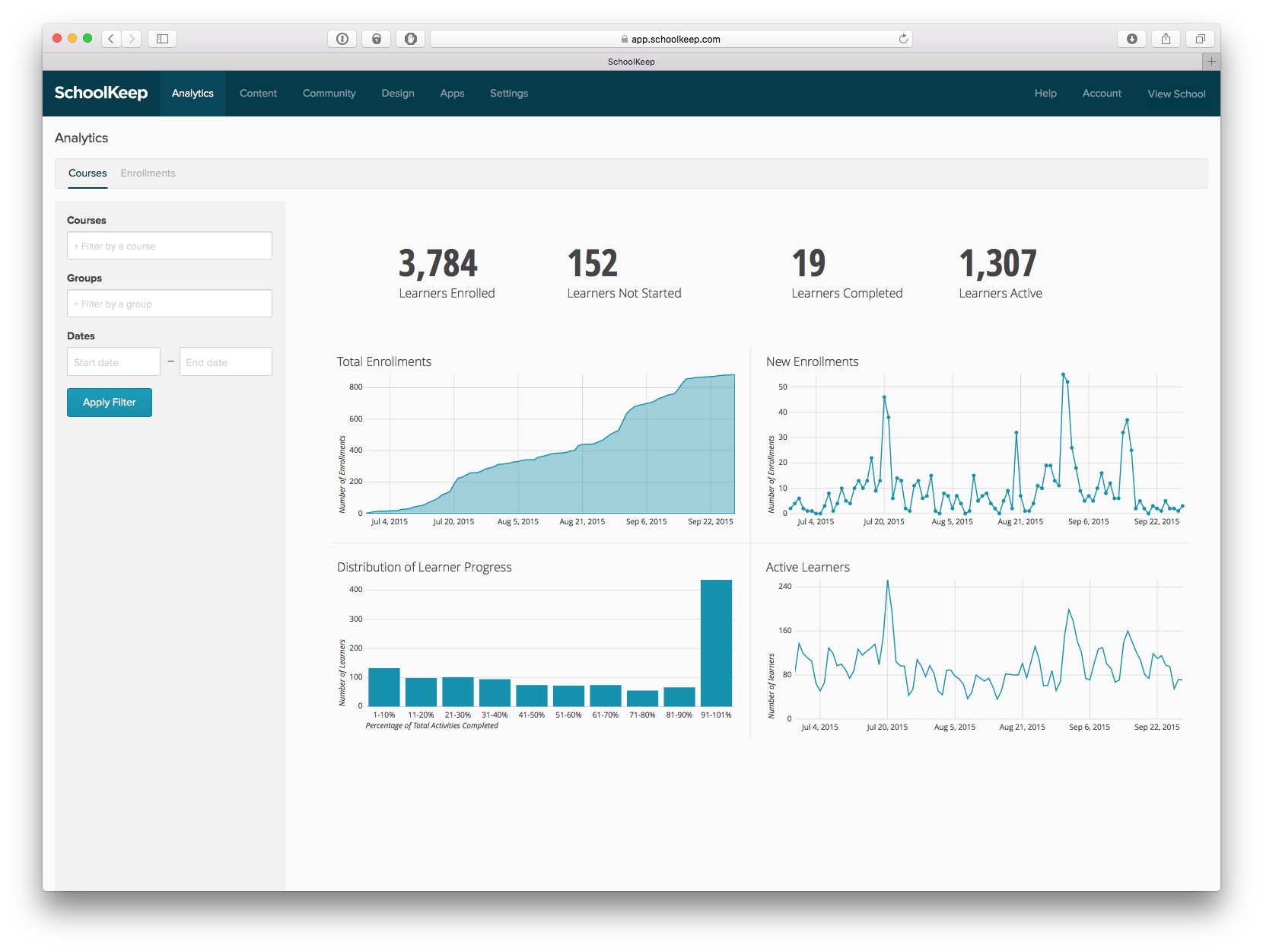 You've spent a great deal of time building your course and creating content for it. But are your students actually learning anything?
Not all learning management systems will allow you to track the metrics you need to determine the effectiveness or success of your online courses. In fact, not all the metrics you may need for your course can be measured by online learning analytics. In order to know how students are doing, during and after a course, successful online instructors sometimes have to think outside the online analytics box.
Related reading: Adopt These 5 Techniques of Successful Online Educators Today
What do you track?
In many cases, the metrics you'll want to measure will depend on your specific course. If your course is a compliance course, you won't be tracking the same things that you would be in a course intended to teach a specific skill. Below are some examples of what to track, how to track it and why you should care about it.
What to track: Participant satisfaction
How to track it: Survey
This is probably the most common type of assessment used in courses; an electronic survey is distributed to learners who have completed a course, and participants are asked to evaluate the course. While it may seem like a hassle to ask your learners' opinion of your course, these surveys can contain valuable information, telling you which parts of the course worked for them and which parts can be improved. And if your learners don't complete the survey itself? That's information, too.
What to track: Completion rates
How to track it: Your LMS's built-in analytics.
Sometimes the best metric is the simplest one. Your LMS should be able to show you how much of your course has been completed by any student. If you're conducting a basic course, such as a compliance course, you can track completion of the course over time, and you can learn where the choke points and "off ramps" are where you are losing some students. As you tweak the course, you'll be able to see how those changes affect the completion rate.
What to track: Skills and knowledge
How to track it: An exam at the end of the course, evaluation of skills learned
Many online courses do not include an exam at the end of the course, and they are missing an opportunity to test the knowledge of their learners.
It may be more compelling, however, to test your learners behaviorally, evaluating their ability to perform a task they learned during your course.
For example, LiveseySolar Practice Builders, healthcare marketing organization in the UK which runs a course on telephone sales, tests its learners before and after the course with a series of mystery calls. Those calls enable the organization to understand what skills the learners need to master during the course, and how much they've improved afterward.
You can test your learners visually on a task even if your course is online and aimed at channel partners or far-flung employees. After a course is over, training managers can require employees or partners to record themselves performing an activity. The learner can then send that video to their training manager.
The importance of tracking outcomes
Tracking your learners' progress through a course is important, but these metrics are just a starting point. Every online training initiative is different, and each organization needs to improve in different areas. Before you start tracking any metrics at all, take a long, hard look at your course and your organization's training. Then make a list of your goals as a trainer.
By knowing which metrics to track, successful online instructors are able to tell how their learners are doing, and, by extension, how their courses are doing.
{{cta|https://resources.schoolkeep.com/ebooks/lms-buying-guide-2|https://uberflip.cdntwrk.com/files/aHViPTYzNjYzJmNtZD1pdGVtZWRpdG9yaW1hZ2UmZmlsZW5hbWU9aXRlbWVkaXRvcmltYWdlXzU4NWFhZjk1Nzg3ZjkucG5nJnZlcnNpb249MDAwMCZzaWc9ZWZiZjFhMjYxOTNiOTQ5OGNhN2U5MTdlMGVmNTBmMWE%253D}}