I created my first and only Twitter account when it was still considered new – back in March 2009. For the first 3 years or so, I struggled to make it useful.
In 2012, however, I was tasked with recruiting middle school educators to participate in an experiential learning program. I gave Twitter another shot – and I'm so thankful I did. I found hundreds of thousands of educators, education technology vendors and researchers actively participating in worldwide Twitter conversations about education.
I wanted in immediately, but knew I had to 'listen' if I wanted to truly understand the educators I was trying to reach. It was in this way that I learned how to build my program around their needs. But I picked up a few other things as well. Through active listening and increased participation in these Twitter conversations, I learned how to build and manage what is often referred to as a "personal learning network," or PLN.
This post is for teacher-leaders and education thought leaders who are ready to take their PLNs to the next level in 2015.
What Are Personal Learning Networks (PLNs)?
An individual's personal learning network can be described as an informal and personally curated community of professionals, industry thought-leaders or organizations that consistently create and/or share valuable information with the goal of educating their community. It's a casual approach to meaningful professional development.
The true power of a PLN is realized when two or more people decide they would benefit from an information or learning exchange with one another. Eg. Johnny is an expert on A, B and C and Betty would like to know more about A, B and C, while Betty is an expert on X, Y and Z and Johnny would like to know more about X, Y and Z.
Since the earliest recorded uses of the phrase somewhere between the years of 1998 and 2000, the concept has morphed and grown with advancements in research and technology. A big part of the PLN as we experience it today is the learning theory of Connectivism, popularized by George Siemens and Stephen Downes in 2008, which hypothesized that learning should emphasize the role of cultural context and social connection.
Educators who have adopted the theory of Connectivism and built strong PLNs are members of the larger connected educator community. Check out the video below on connected educators by the Office of Edtech.
Today, using Twitter to cultivate a PLN is probably the most common approach, though there are other options. Professionals working in a plethora of industries are building PLNs in environments across the Internet including, Google+, Linkedin, Facebook, Instagram, Quora and Reddit among others. My PLN, like many others, span a few of the social networks listed above.
Taking our PLNs to the Next Level
My PLN is comprised mostly of educators who are interested in social, experiential and blended learning in addition to education technology and entrepreneurship. I'm an avid blogger and enjoy sharing what I learn with my PLN on a weekly, sometimes even daily basis.
As I look back at the content I've created and distributed to my PLN, I notice a trend. The blog posts and insights on the use of social media in education, whether it's about tools, tips, tricks or strategies have all performed incredibly well. A few have even gone viral, like this one about Twitter for Beginners in Education.
Related post: 7 Tools Driving Social Media Success for Online Educators
As a result, I was inspired to figure out how I might provide a more comprehensive social media/social learning education to the teachers who want or need it most.
Here's what I came up with: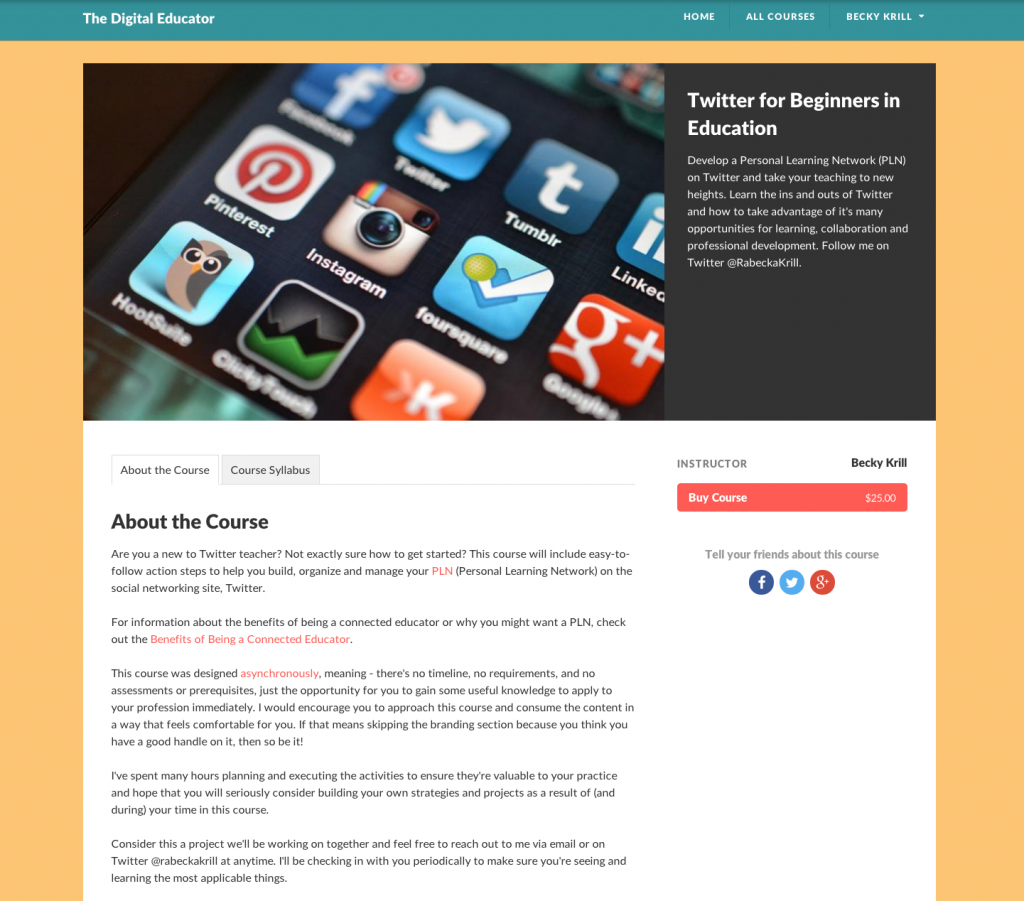 Yes, that's right – a course! I decided to create a comprehensive course titled, Twitter for Beginners in Education.
While I'm excited to complete the project and start distributing it to my PLN, I'm even more excited about what this could mean for the connected educator community as a whole.
Over the past two weeks I've been on the hunt for any educator or group of educators that offer teacher-led online professional development in the form of courses, immersive learning, or programs accessible from anywhere in the world.
I haven't found many aside from a few rogue MOOCs on Coursera, like Learning to Teach Online and Learning How to Learn. Both are highly valuable courses, but my question is: where are the independent educators or groups of educators delivering teacher PD online?
Is teacher professional development only happening informally in blog posts, podcasts, and social engagements? What if people were sharing links to their comprehensive, multi-media courses on social media just as often as links to their blogs?
In a recent Edsurge article titled, A Blueprint for Personalized Professional Development by Teachers, for Teachers early childhood educator and member of the Rodel Teacher Council, Patricia Dallas writes, "To many educators, online professional development means watching a video or listening to a recorded presentation." This begs the question, has technology not enabled a more interactive and comprehensive experience?
She goes on to say, "I'm convinced that offering online courses led and constructed by teachers, for teachers will improve outcomes for all students."
Patricia, along with the other members of the Rodel Teacher Council, are on to something big. It won't be long before others catch on. Thanks to the development of cloud-based teaching platforms like SchoolKeep, 2015 will be a year of empowerment for educators around the world.
Who Will Lead the Charge?
There's no way to know for sure but it will probably be industry thought leaders with far-reaching PLNs.
People like:
Groups like:
Not to mention the thousands of you that will read this post making a tremendous impact on your students, schools, districts and communities every day. Don't be afraid to multiply that impact and start reaching teachers and students from around the globe.
How do you think the PLN will grow and transform in the coming months and years?
{{cta|https://resources.schoolkeep.com/training-framework|https://uberflip.cdntwrk.com/files/aHViPTYzNjYzJmNtZD1pdGVtZWRpdG9yaW1hZ2UmZmlsZW5hbWU9aXRlbWVkaXRvcmltYWdlXzU4NjQxNDUwZjI5NmMucG5nJnZlcnNpb249MDAwMCZzaWc9M2FhY2QxNzllZTY3MDZlMmI0ZTZhZmZkNWE5NGE5ZjA%253D}}