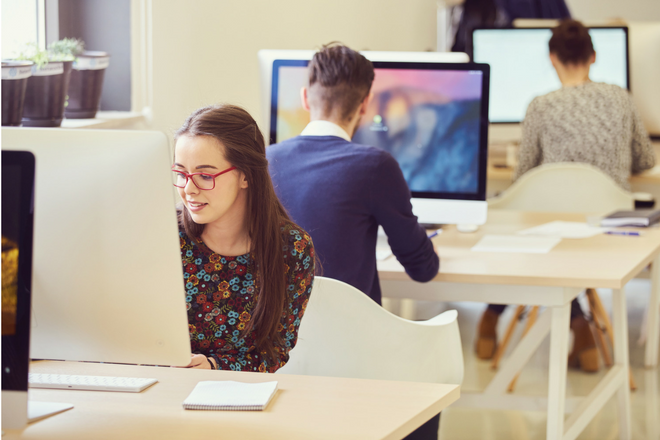 Imagine you're an instructional designer tasked with creating an online learning program, or you're looking for an LMS vendor for your company's customer training program. You hear the term SCORM and wonder, "What does it have to do with my job?"
As we explained in a previous article defining what SCORM is, it specifically addresses programming procedures for elearning products. Its benefits — in one way or another — extend to all those involved in online instruction.
In a business sense, SCORM (Sharable Content Object Reference Model), allows elearning providers and creators to be more flexible in choosing and switching platforms. That means they can develop and deploy content quicker and cheaper.
One benefit of utilizing SCORM compliant software is that it permits elearning content and learning management systems to seamlessly interact through a standard coding protocol.
Because of that, instructional content can be customized for each customer if needed without the need for costly re-coding. SCORM also supports a more sophisticated delivery of elearning that reaches more customers.
Therefore, if your online training program is to be delivered to all your customers, or you intend to sell your courses to your clients online, the elearning must be professionally done to engage users and justify the cost.
That's where SCORM comes into play. By following SCORM guidelines, the courses feature more interaction between the learner and the LMS as well as the ability to assess the learner as he or she progresses through the program.
Editor's note - This is the first of a 3-part series. Be sure to check out:
What's the true value of SCORM?
Most experts agree the true value of SCORM hinges on its ability to integrate elearning content with learning management systems.
An oft-cited illustration of the advantage of SCORM is a DVD that works in any player. Imagine buying a favorite movie DVD only to find it cannot run in your DVD player? Without SCORM, course development tools and LMS would be similarly out of synch.
Developers can hand-code SCORM objects using HTML, JavaScript and sometimes SWF files. The Advanced Distributed Learning group provides some templates for that process. For non-technical people, SCORM authoring software can generate SCORM packages.
The advantages of using a SCORM compliant elearning software
Before SCORM, content creation tools and elearning delivery platforms didn't integrate — they didn't play nice with one another — forcing developers to undertake the long and costly process of melding the two together. With SCORM, developers follow a coding roadmap that bridges the gap between the two.
In the non-technical world of SCORM, it means elearning providers and developers are not locked into one solution or vendor. They can choose the most appropriate one for their purposes at a given time.
For instructional designers, their SCORM-compliant content can plug into any SCORM-compliant LMS. That extends the usefulness and scope of the content so it can be mixed and matched from different sources free of any technical snags. Further, SCORM underlies content of all levels, from simple to more complex and multifaceted.
Is the platform SCORM compliant?
Now that you've decided you want to make your LMS or instructional content SCORM-compliant, or you want to purchase an LMS that is SCORM-compliant, how do you know if what you're getting is truly SCORM compliant?
As the SCORM administrator, the Advanced Distributed Learning (ADL) research group handles all things related to SCORM, including formally testing, validating and certifying products as SCORM compliant. The ADL lists all SCORM-certified products.
But a product needn't undergo the process solely through ADL. The organization also provides a suite of self-tests that mirror those mandated for the certification designation. By completing those company-initiated trials, vendors can prove their products are SCORM compliant to clients. These vendors are termed "SCORM Adopters," and ADL keeps a log of adopters on its website.
Related reading: 8 Types of Must-Have Tech Tools to Upgrade Your Online Learning Efforts
It's important to note that only the actual content and learning management systems fall under the SCORM compliance umbrella. Content development tools and developers cannot be certified by ADL, although they can output SCORM conformant products.
Which term is most important?
The terms SCORM certified, SCORM conformant, and SCORM compliant are sometimes used interchangeably. That isn't quite correct. SCORM certified refers only to the formal certification process administered directly by the ADL.
Conformant and compliant connote products developed to SCORM standards and which have successfully passed the self-tests offered by ADL. But they have not been verified by an independent testing agency like the ADL.
Can old content be repurposed as SCORM compliant?
You may be tempted to discard non-SCORM learning material, but that would be a mistake. Fortunately, non-SCORM-compliant content can be made SCORM compliant by following the technical guidelines set out by the ADL that deal with content packaging, run-time, and sequencing. When building content from scratch, start with a SCORM-compliant authoring tool such as Adobe Captivate and Articulate Storyline.
For LMS providers, meanwhile, the path to SCORM compliance is more difficult. Per ADL's guidelines, the LMS must be configured in such a way that it accepts the instructional content with no technical glitches. In other words, the LMS developer shoulders more of the burden for SCORM compliance.
But for course providers and instructional designers, by working with a SCORM compliant LMS, you ensure your courses are easily adapted into the LMS and then distributed to learners.
{{cta|https://resources.schoolkeep.com/ebooks/lms-buying-guide-2|https://uberflip.cdntwrk.com/files/aHViPTYzNjYzJmNtZD1pdGVtZWRpdG9yaW1hZ2UmZmlsZW5hbWU9aXRlbWVkaXRvcmltYWdlXzU4NWFhZjk1Nzg3ZjkucG5nJnZlcnNpb249MDAwMCZzaWc9ZWZiZjFhMjYxOTNiOTQ5OGNhN2U5MTdlMGVmNTBmMWE%253D}}