Whether you're a digital marketer planning to teach the next generation conversion rate optimization (CRO) or a software developer looking to earn a few thousand a month in passive income, this post will help you get a grip on a few basic pedagogical principles that should guide your course design process.
This post was inspired by and written for the entrepreneurial subject matter experts of the 21st century who are currently working on or considering creating an online course. These are folks who have dedicated their personal and professional lives to mastery of a specific subject and want to try their hand at turning their expertise into a profitable online business.
Before we dive into our suggested pedagogical model for designing your online course, consider the two true or false statements below.
A True or False Question
High quality teaching stems from content mastery.
Great teachers can teach anything.
If you guessed both are false, you don't need me to tell you that being a subject matter expert doesn't automatically qualify you to create engaging learning experiences for a diverse group of students.
Alternatively, having a firm grip on pedagogy also doesn't guarantee an ability to teach any kind of content. Great teaching involves a healthy balance of both content mastery and an understanding of pedagogy.
Having an understanding of just one pedagogical model will make the course design process easier. Not to mention, by employing the best practices and pedagogical model outlined in this post, you'll be on your way to creating meaningful online learning experiences.
Related post: 5 Habits of Successful Online Instructors
Peda-what? Pedagogy for Beginners
Pedagogy is the theory or practice of teaching, with the goal of improving the intellectual and social development of students. It involves combining the skills and knowledge necessary for delivering high-quality, effective teaching.
Explore the different pedagogical frameworks and strategies to find those that best resonate with you, your content, the mode of delivery (online) and your students. Among the most popular frameworks are:
Layered Curriculum
Brain Based Learning
Constructivism
Theory of Multiple Intelligences
Edward de Bono's Six Thinking Hats, and
Bloom's Taxonomy, which we'll explore below.
An Adaptation of Bloom's Taxonomy for Online Course Creation
If you're new to teaching online, I'd encourage you to consider Bloom's Taxonomy as an approach to balancing your course activities while also engaging a diverse group of learning styles with one, all-inclusive curriculum. Traditional educators have been using Bloom's Taxonomy since the late 1940's because it works.
Take a look at the graphic below. In the taxonomy, students start at the base layer, or the "Remember" step, and work their way up as they master the content in the increasingly complex layers. While the base layer is considered the lowest level of learning, no other learning can take place until a student has the prerequisite knowledge acquired there.
The graphic already includes a few suggested activities that apply to the experience of learning online, but there are many more applicable activities out there. You'll likely discover several of them through individual research, through student suggestions or even accidentally.
If we're using Bloom's as a framework for building our online courses, it's worth noting that everything in the learning experience column is active instead of passive. Students must DO something to learn. It is not enough to just record dozens of videos of yourself speaking into the camera, unless you're giving students opportunities to apply the content they're learning about.
Related post: The Neuroscience of Storytelling Will Make You Rethink the Way You Create Online Learning Courses
Choosing Technology That Accounts for Pedagogy in Online Course Creation
Once you have a basic sense of what you'll teach and how, start shopping around for a platform that supports a pedagogically sound teaching strategy.
SchoolKeep is a great option. In fact, our platform's syllabus builder feature helps you map your activities, build a course outline and gives you ideas about what types of activities you'll want to include (quizzes, discussions, SlideShares, videos, etc).
Check out the images below of the SchoolKeep syllabus builder in action.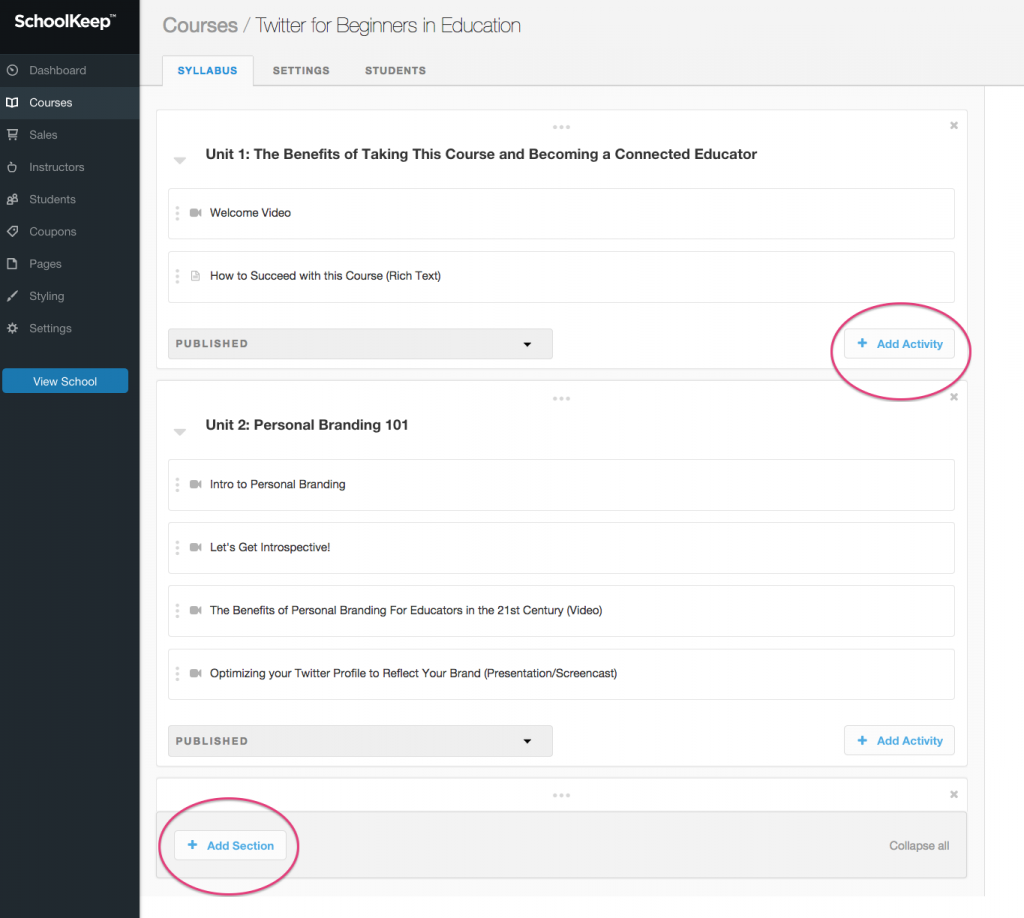 To apply lessons from Bloom's taxonomy, I suggest you start each unit or section by having students consume information via video, rich-text, or a slide presentation, and then provide a follow-up assignment or group of assignments that encourage students to work their way up the taxonomy and apply your content to real life scenarios.
Assignments may be collaborative, constructive, independent, creative and various combinations of these. Reviewing completed assignments will give you an idea of what, how and why students are learning. Be sure to make assignments relevant and give students different opportunities to demonstrate mastery. This could look something like, "choose 1 out of the 5 available assignments."
There you have it. I hope you'll refer back to this basic pedagogical framework throughout your course design process. Bloom's taxonomy will help you take your content expertise and turn it into effective and profitable online learning experiences for students around the world.
Related post: Pace Yourself! Tips for Maintaining Momentum as You Create Online Courses
{{cta|https://resources.schoolkeep.com/training-framework|https://uberflip.cdntwrk.com/files/aHViPTYzNjYzJmNtZD1pdGVtZWRpdG9yaW1hZ2UmZmlsZW5hbWU9aXRlbWVkaXRvcmltYWdlXzU4NjQxNDUwZjI5NmMucG5nJnZlcnNpb249MDAwMCZzaWc9M2FhY2QxNzllZTY3MDZlMmI0ZTZhZmZkNWE5NGE5ZjA%253D}}