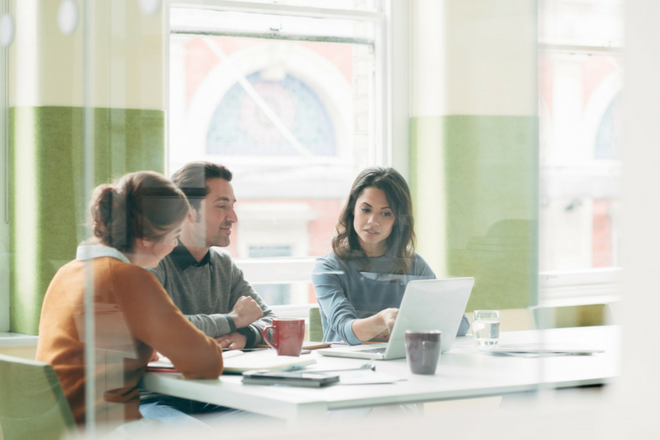 One irony of the shift to cloud-based software is that innovative organizations which have had digital learning and development programs in place for ages are the least likely to start using a hosted LMS.
Perhaps your experienced L&D team installed a learning management system (LMS) on your internal server several years ago and your IT department continues to oversee it. Or, you custom built an elearning system using your owner internal resources.
Lately, though, you've been wondering if there's a better way to manage your growing L&D demands. The current system seems outdated. It's difficult to make modifications that address the growing number of users on the system or reflect all of your updated training needs.
Then, there are the cost considerations: Is there are a cheaper option in the marketplace? You've heard about cloud-based or hosted LMSs and want to know more.
What types of LMSs are available today?
Fortunately, learning management software comes in several different formats.
Hosted or Cloud-Based. With a cloud-based or hosted LMS, the LMS vendor hosts the software on its remote server in the cloud. ("In the cloud" just means the service is internet based; the host's server is stored in a safe, physical location.) Users within your organization and learners enter the program via an internet browser.
As with similar SaaS offerings, you will be offered either a package-based, all-inclusive or metered pricing plan to use the LMS. If any updates are needed, your instructional designers can add new content via a web browser. This type of LMS permits you to customize and brand your content.
Related reading: Why Your Customer Training Program Requires a Cloud LMS
On-Premises. The opposite of cloud-based LMS, an on-premises LMS resides on your organization's in-house server. Typically, you purchase a license or a copy of the software, which you then install on your network infrastructure. Your IT department maintains and upgrades the software as needed.
Open Source. Also known as "free" (although there can be other fees associated with open source software), an open-source LMS means anyone can access the coding to configure it to their needs. That requires, however, internal staff or external coders with sophisticated software development knowledge. The best example of an open-source LMS is Moodle.
Custom developed. As the name implies, a custom-developed LMS is crafted for an organization's individual learning requirements. Sometimes, organizations will use an open source LMS as a starting point to build their own LMS, using its core set of features. To create its own LMS from scratch, an organization must have the internal resources to develop and maintain it.
Why a hosted LMS is the best choice
Ready, set, go. Once you subscribe to a cloud-based LMS, you almost immediately start uploading course content and signing on learners.
Unlike an on-premises or custom-developed LMS that requires a lengthy development timeline, a hosted or cloud-based LMS stands ready to go from the first day. Reduced onboarding time leads to quicker time to value and productivity, better retention and higher lifetime customer value.
Download SchoolKeep's Free eBook: Extend Customer Lifetime Value with Customer Education
Cost effective. With a hosted or cloud-based LMS, you pay for only those services and features you actually need and use. In addition, you avoid the costly expense of installing hardware and software and maintaining an in-house server along with a larger IT staff. A cloud-based LMS requires no installation fee as well.
Scalability. Because a hosted LMS is not a one-time purchase, the buyer can typically adjust how much access it needs periodically.
A customer success model. An on-premises LMS stems from a sales model. The vendor wants to sell its product and may not be interested in a long-term partnership. With a hosted or cloud-based LMS, the vendor has the ability innovate on the pricing model to make themselves a partner in your long-term success on the platform. A metered pricing model, for example, makes the SaaS company is invested in the partnership with an incentive to ensure your success.
Update with ease. Cloud-based learning management systems update continually and with little interruption to the user. Content changes take place via the internet. Unlike an open-source LMS, staff members needn't be coding experts to make the changes.
Likewise, an on-premises LMS necessitates time-consuming and inconvenient downloads of updates and new releases. An on-premises LMS may quickly become antiquated if the provider lags behind marketplace changes or your IT department cannot keep pace with upgrades.
User Insight. Today's cloud-based and hosted LMSs offer robust tracking dashboards that enable your organization to view who is using the LMS, how they're progressing, what areas users find helpful and which fail to provide value. An on-premises LMS may not provide that user insight unless someone in your IT continually oversees it.
Related reading: The 5 Pillars of Training Excellence for Fast-Growing Startups
Increased storage and security. Since the cloud-based LMS resides offsite, your organization frees up valuable in-house server space for your important data. Your LMS files are backed up and secure on the vendor's server. And given recent industry-wide scrutiny of data security, cloud-based SaaS providers have amped up their security features.
Customer service. Hosted and cloud-based LMS offer top-notch customer support. If a question or problem occurs, a help desk addresses those concerns in real-time.
Is it time for you to purchase a new LMS?
If you're asking yourself the question, the answer is probably yes. But to be certain: just assess your current LMS against the attributes listed above.
Is it cost-effective, scalable and easy to update?

Is your host invested in your success and easy to reach when questions arise?

Is your data safe and can you track insights to know if your program is indeed improving your business?
If your current LMS has become outdated or simply too unwieldy to manage, now's the time to make the switch to a modern cloud-based hosted LMS.
{{cta|https://resources.schoolkeep.com/ebooks/lms-buying-guide-2|https://uberflip.cdntwrk.com/files/aHViPTYzNjYzJmNtZD1pdGVtZWRpdG9yaW1hZ2UmZmlsZW5hbWU9aXRlbWVkaXRvcmltYWdlXzU4NWFhZjk1Nzg3ZjkucG5nJnZlcnNpb249MDAwMCZzaWc9ZWZiZjFhMjYxOTNiOTQ5OGNhN2U5MTdlMGVmNTBmMWE%253D}}