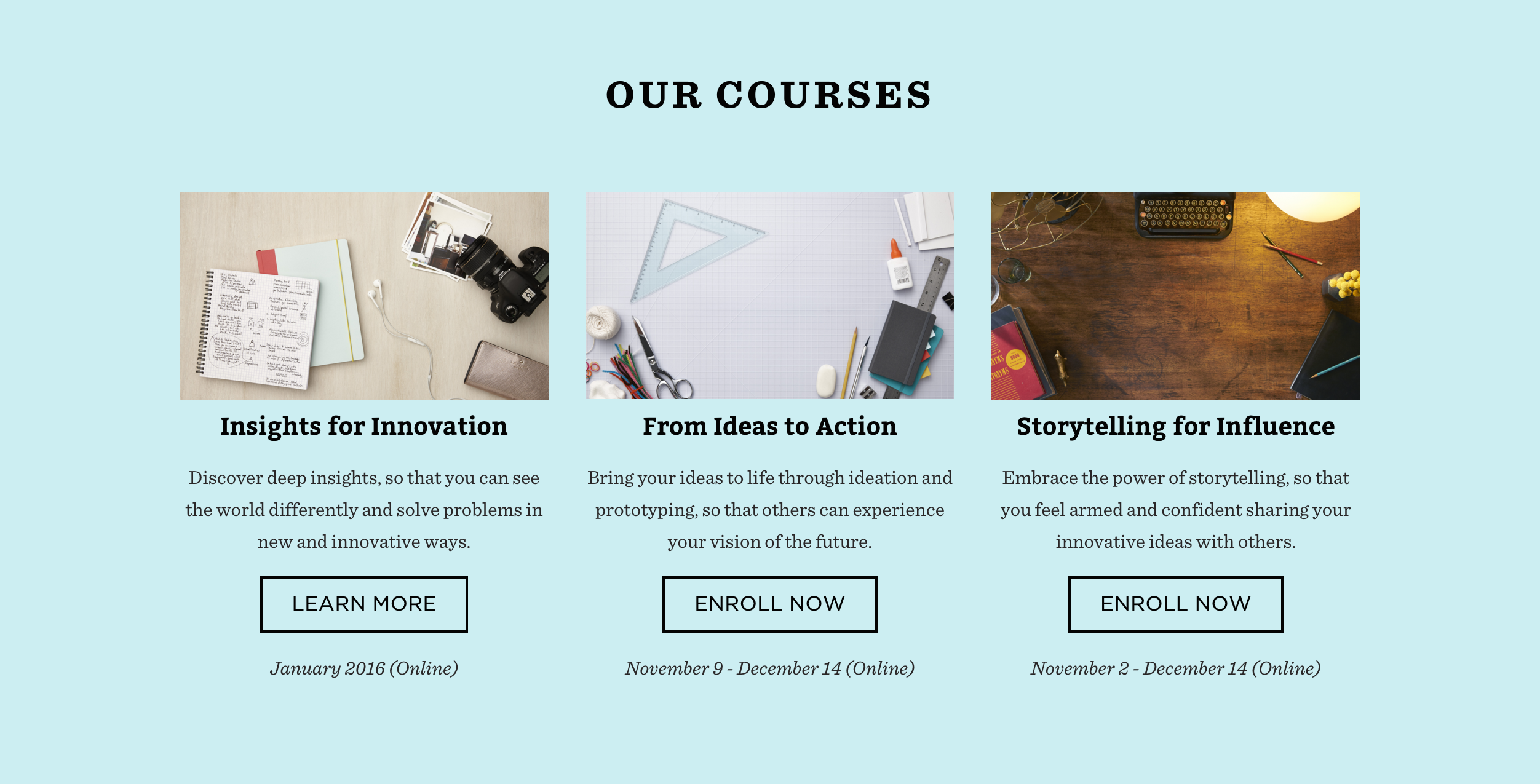 Interested in using design thinking the next time you design an online course?
If so, you may want to learn from the example of the experts: IDEO, the award-winning consulting firm that specializes in design thinking, is now teaching its brand of innovation to learners online. In March, the company created IDEO U, an online school for creative leaders that uses the SchoolKeep platform.
IDEO U has run two online courses in design thinking — Insights for Innovation and From Ideas to Action — and will be introducing Storytelling for Influence this fall.
Naturally, IDEO used design thinking to develop its own courses, and that provides a great opportunity for other teams to learn about how best to develop training for their customers, employees or channel partners.
What is design thinking?
Design thinking is a human-centered approach to business. Rather than focus on selling a specific technology, for example, a design thinker tries to match the customer's needs with what is technically possible and also with viable business opportunities.
According to Karen Holst, a product designer at IDEO, the principles of design thinking are usually illustrated as a Venn diagram: one circle contains "feasibility" (what is technically possible), one circle contains "desirability" (the users' needs), and the third circle contains "viability" (business opportunities). The center, where the circles overlap, is usually described as "innovation."
"There, in the center is where design thinking really evolves from," says Holst.
Design thinking is based on several principles. Here are a few you can apply to your own courses.
Observation and gathering insight
A designer must know the end-user they are creating for. In this case, that's the learner.
Related reading: Design Guidelines for Next Level Course Designers
Insight-gathering begins before a course is created. While you're designing, try to understand what your learners' needs will be. You might conduct interviews with people who are interested in taking your course, and ask them what they would like to learn, and how.
"The foundation of all of this is really trying to understand the learner that you're building for," says Holst.
After a course is created, you can continue to gather information by observing learners in the course, watching them interact with it, seeing where they get stuck or, says Holst, which parts of the course truly excite them.
"It really all comes back to human-centered design and building for that end user," she says.
Prototypes
If you've Googled "design thinking," chances are, you've seen prototyping mentioned in your search results. Prototypes are important to designers because they allow end-users to participate in the innovation process and because having a tangible product — which allows a designer to test results — is important.
How did IDEO U prototype their own courses?
Related reading: Online Instructional Design Spotlight -The Advance Auto Parts Story
According to Holst, IDEO met with small groups and had them try out the activities planned for each course. Then, they asked questions. For example:
How did the activity feel?

When did you feel like you were really learning?

What parts of the course do you feel you can take back to your job?
Continuous iteration
Iteration is an important part of design thinking, because it means you're always refining your product as you get new information from learners.
IDEO U's own courses have gone through a few iterations since the launched in March. Quizzes have been added, for example, to improve learner engagement.
"It's always going back and looking at the course and how we can continue to discover new ways to bring ideas forward to evolve the toolkit that students leave with," says Holst.
In other words, just because an initial course design is complete, or has been run, doesn't mean you're finished making changes. If you're using design thinking, you've invested in going back to the drawing board, revisiting feedback from learners, and constantly making your course better.
{{cta|https://resources.schoolkeep.com/training-framework|https://uberflip.cdntwrk.com/files/aHViPTYzNjYzJmNtZD1pdGVtZWRpdG9yaW1hZ2UmZmlsZW5hbWU9aXRlbWVkaXRvcmltYWdlXzU4NjQxNDUwZjI5NmMucG5nJnZlcnNpb249MDAwMCZzaWc9M2FhY2QxNzllZTY3MDZlMmI0ZTZhZmZkNWE5NGE5ZjA%253D}}