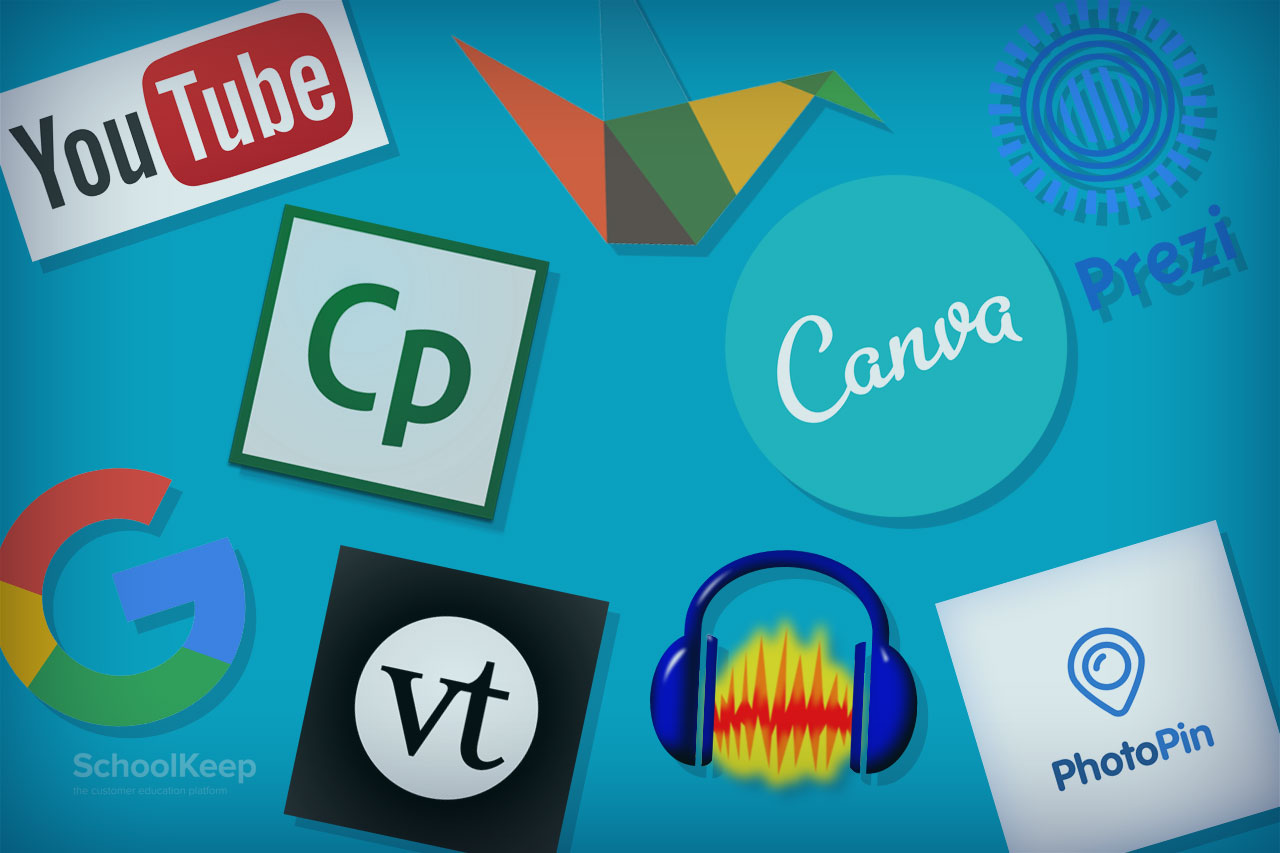 If you're new to online training, creating course material can feel like an overwhelming task. Depending on the content of your training, you may need to create and edit videos, source images, edit audio and create slide decks.
In the past, this was all beyond the ability of the average user and required people with experience operating complicated software. Fortunately, content creation tools meant for anyone to launch and use right away are making it easier to develop materials for your online courses. You just have to know where to look. Below is a list of our favorite online course creation software. Many of these tools are simple to use and some of the options are free.
Audio
Audacity is a simple, free audio editing software that helps you record and edit audio tracks. While Audacity boasts an array of features that allow users to mix tracks, import and export variously-formatted audio files, and more, it's also designed to make editing audio as easy as possible.
It's a big reason podcasting has become easy for anyone to do, and smart training professionals often rely on it for online courses.
Video
YouTube Editor is a simple, but effective video editor that included in your free subscription to YouTube. You must, however, upload your video to YouTube in order to use it.
YouTube editor is very basic; if you don't need much done to your video, and you plan to host your video on YouTube, YouTube Editor may be the way to go. If you need something more involved, you may want to try a more advanced editor, like Apple's iMovie, or an online video editing suite like WeVideo.
For more information about mobile editing suites and screencasting for online courses, take a look at our previous article about easy video creation tools.
Design
Canva is an online graphic design platform for people who are intimidated by Photoshop. It boasts a library of stock photos, filters, fonts and layouts. You can use Canva to create slides or other graphics for your online course just by setting the dimensions for your slides, dragging and dropping your photos and other elements and then starting to use the simple editing tools.
PhotoPin removes some of the trickiness in finding photos to use on the Internet. You can't just grab a photo off of any site; you have to either buy or be granted the right to use it. PhotoPin helps by offering access to all the Creative Commons photos on the web. You just search for the kind of photo that you want and PhotoPin searches only for photos that are legal for you to use.
Presentations
Google Slides is a web-based software that allows you to create presentations for free. It comes with a library of fonts and themes, and also allows you to embed video and animations.
Haiku Deck is a paid presentation creation software (although it's free for iOS users). While it is similar to other presentation software, it's much more stylish than, say PowerPoint, with attractive themes, fonts and layouts. (Mashable once called it "Instagram for pitch decks.")
Prezi is part PowerPoint and part mind map. While other presentation software creates slideshows, Prezi allows a user to zoom in and out on different parts of a diagram, so that an instructor can highlight different parts of a chart or lesson.
Instructional Design
Adobe Captivate is specifically meant for creating content for online learning. Use Captivate to storyboard your course, to build presentations, demonstrations or quizzes. Adobe Captivate is available in a range of differently-priced plans.
Not sure how to map the flow of your course? Take a look at our quick guide to storyboarding for online courses.
VoiceThread is a media aggregator. Put simply, VoiceThread allows you to post media — a photo, a document, a gallery, a video — so that others can comment on it. Instructors can use this tool to facilitate discussions with online learners, and learners can choose how to respond. They can use a microphone or webcam, or they can type their comments.
Online course creation software for all skill levels
Creating course materials need not be intimidating. Since, like today's learning management software, most of these content creation tools are cloud-based, all you need to start creating professional looking online training is an internet connection. The tools that will help you create compelling instructional materials are just a click away.
{{cta|https://resources.schoolkeep.com/ebooks/lms-buying-guide-2|https://uberflip.cdntwrk.com/files/aHViPTYzNjYzJmNtZD1pdGVtZWRpdG9yaW1hZ2UmZmlsZW5hbWU9aXRlbWVkaXRvcmltYWdlXzU4NWFhZjk1Nzg3ZjkucG5nJnZlcnNpb249MDAwMCZzaWc9ZWZiZjFhMjYxOTNiOTQ5OGNhN2U5MTdlMGVmNTBmMWE%253D}}