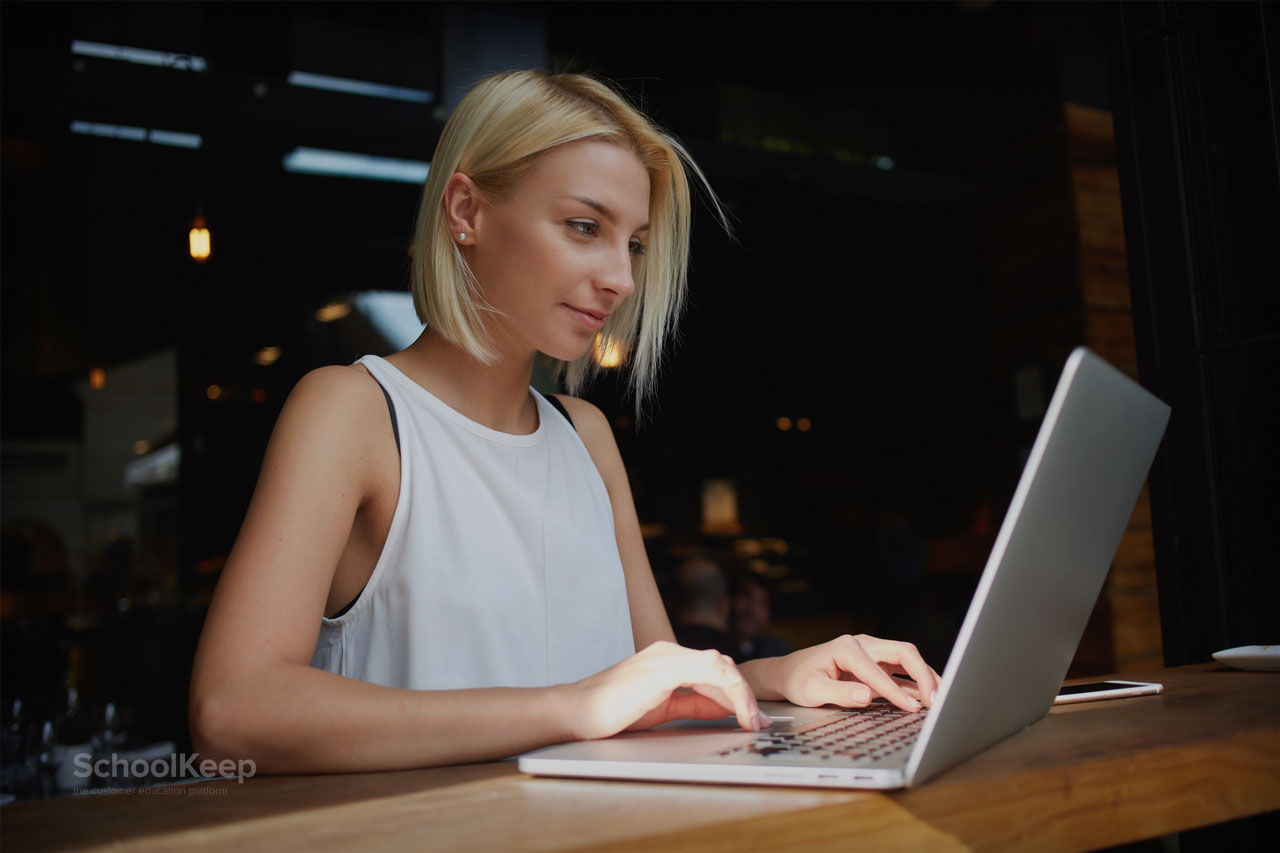 Creating online learning for your customers, clients and channel partners used to require several experts in information technology, software development and instructional design.
Luckily, today's tools make this work a lot easier. All the same steps may be involved, including selecting the content and graphics production to project management and pilot testing, but new tools make them much less daunting to accomplish.
Still, if you are unsure how to create an online course for the first time, you might be feeling a little intimidated. Don't despair. Typically, much of your time falls within the pre-planning stages — choosing the content, storyboarding, designing the look and feel of the instruction — as well as the actual production and programming of the courses. Handle those tasks properly and expeditiously and you'll have scalable elearning in place in no time.
Here are six easy-to-follow steps for creating your online training program.
Step 1: Decide on course content
First determine the purpose of the online education program: Is it to instruct learners on a specific tech program or skill? Or is it to help them be better practitioners in their industry? Is the aim to create a short digital instructional video to promote your brand and services? Is the program a one-off course or a series of elearning training blocks?
Embedded in this front-end planning is getting an in-depth understanding of your customers and audience. In your dealings with them they may have given hints about what they want to gain from an elearning program. Once you ascertain that, you then have a broad outline of the content you need to develop within the online courses. More importantly, by being guided by your customers' and partners' requests, you're assured the elearning program you create offers enough value to them that they'd pay for it.
Step 2: Gather all your materials
Once you collect all relevant materials — whether those be PowerPoint presentations, hard-copy manuals, videos, or test sheets — organize those pieces in a cohesive manner. So you're not overwhelmed by an overabundance of files that can lead to distraction, select only those materials that have a direct correlation to the course content you want to transfer to an elearning program.
Step 3: Begin storyboarding the course with your team
At this point in the process, you have identified all team members, from subject matter experts (SMEs) to instructional designers (either on staff or a contract hire) as well as technology pros and marketing associates. The team members then storyboard the course content, breaking it down into specific modules, each with a specific topic and learning goal. And, as we discussed in a previous article on storyboarding your course, it might be a good idea to test your storyboard on potential users, which will minimize the need to add new content after your tests later on.
Related Reading: The Key People You'll Need to Build a Killer Customer Training Program
At this point in the process, project management comes into play. Establish a tentative timeline for when specific tasks are to be completed. Although milestones inevitably get delayed for numerous reasons, a schedule keeps the team focused on what needs to be accomplished.
Step 4: Choose the right tech tools.
The marketplace offers a wealth of technology for elearning creation, everything from content authoring software and learning management systems (LMS) to video and audio tools. Your team must first decide what formats it wants to use in the elearning program, i.e., text backed by audio narration, original videos, or a combination of both. Likewise, your on-staff talent can create the graphics in house, or you can procure graphics from outside sources.
Whatever the format, incorporate interactivity within the elearning content, either with simulations, games, chat boards or quizzes. Such elements keep learners engaged. Accordingly, make sure whatever tech tool you ultimately select features the ability to track learner progress. That way, you can assess how often they engage with the instruction and whether they're obtaining the required skills.
Related reading: Follow this Sample Timeline to Launch a New Customer Education Program
Step 5: Prepare a draft of the program
Assemble all the components of the elearning program and create the first draft of the courses. This is the point in the cycle when the SMEs and instructional designers review the content to flag any mistakes or omissions to ensure a consistent flow to the instruction.
If any technical glitches pop up during this stage, notify the technology team members so those can be rectified. Pay attention as well to the overall look of the program. Are you using a white label software and incorporating your own company's branding and design? Now is the time to check and ensure your course presents a professional image and is easy to read and navigate.
Related reading: Follow These 10 Design Principles to Strengthen Your Online School's Brand
Since mobile devices have become ubiquitous, view the courses on a tablet screen to ensure the learner has the same experience he or she would have on a desktop.
Step 6: Test the online courses
Pilot your courses with a select group of customers. After they have maneuvered through the program, request feedback on where the courses need improvement. Perhaps they require more training on a facet of the program you may have overlooked or where you gave minimal instruction.
These test learners will also provide input regarding the flow of the program. Did the training progress logically, or did learners stumble at certain points in the program? Obtaining this candid feedback enables you to perfect the program before its official launch.
{{cta|https://resources.schoolkeep.com/training-framework|https://uberflip.cdntwrk.com/files/aHViPTYzNjYzJmNtZD1pdGVtZWRpdG9yaW1hZ2UmZmlsZW5hbWU9aXRlbWVkaXRvcmltYWdlXzU4NjQxNDUwZjI5NmMucG5nJnZlcnNpb249MDAwMCZzaWc9M2FhY2QxNzllZTY3MDZlMmI0ZTZhZmZkNWE5NGE5ZjA%253D}}